No, we are not talking about brains, brawns or beauty, but spending! In the last week or so The Central Bank of Iceland (CBI) and The Icelandic Tourist Board have published new figures that indicate how private consumption and the current account balance have developed in Q4 2017. To make a long story short, tourists disappointed us. Not only came fewer to the country than we had expected, they were also more frugal than anticipated. At the same time the behavior of Icelanders was more in line with our expectations, i.e. increased purchasing power and strong króna used to the fullest, as reflected in strong import growth and rising payment card turnover. This combined means that we can expect a soft current account balance in Q4, maybe even a deficit for the first time since Q1 2014.
Slower growth ahead in tourism
Last week The Icelandic Tourist Board published the number of foreign overnight visitors in Iceland in December. With 8.4% year-on-year growth it was the slowest growth in one month since 2010 and well below expectations. In total 2.2 million tourists visited Iceland in 2017, a 24% increase from 2016, when there was a record breaking 40% increase. Our economic outlook from November assumed 25% increase in the number of tourists, as we had expected somewhat stronger figures in Q4, as did Isavia.
If the growth in tourism would be described as a persons' aging development, it could be said that the industry has passed adolescence; the growth spurt is over and ahead is adult development and maturity where the gawky body starts to fill out. The clues are piling up and foreign payment card turnover is no exception. According to recent figures from the CBI foreign payment card turnover at a constant exchange rate decreased in December, the second consecutive month. November was the first month since June 2010 where turnover at a constant exchange rate decreased. In November the year-on-year decrease was 13% while it was 12% in December. In other words, every foreign tourist is spending less in his own currency than before, a development which could reflect shorter stays. It should however be kept in mind that this is a major change, which might result primarily from fluctuations in the flight component that does not necessarily reflect the consumption of overnight tourists who visit the country. Hopefully the forthcoming numbers from The Centre for Retail Studies will shed some light on this issue.
Sources: The Icelandic Tourist Board, CBI, Arion Research
In our economic outlook, published in early November, a somewhat stronger growth in tourism was forecast, both in regards to arrivals of foreign tourists and foreign payment card turnover. There are a great many things that indicate that the service surplus in Q4 will be considerably softer than we had previously expected. At the same time the trade deficit has grown rapidly, amounting to 172 bn. ISK in 2017, almost 5 bn. ISK larger deficit than we had anticipated. Therefore it appears that the current account balance in Q4 will be soft, maybe even a deficit.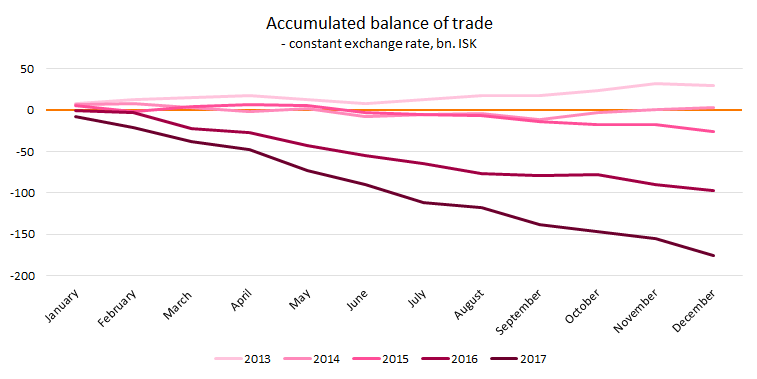 Sources: Statistics Iceland, Arion Research
Domestic payment card put to work
A strong growth in Icelanders total payment card turnover continued, albeit at a slightly slower pace than before. In December the year-on-year growth measured at 7%, at a constant exchange rate and prices, a slight change from previous months which have been characterized by double digit growth. As before the growth was driven by payment card turnover abroad, with Icelanders keen to take advantage of the all-time high purchasing power in foreign currency.
In Q4 the total payment card turnover of Icelanders increased by 10.1% year-on-year, which is in line with our expectations and forecast. Historically payment card turnover has been a good indicator for private consumption, although the gap between the two series has widened recently, as seen in Q3 where payment card turnover increased well above private consumption. In our opinion, payment card turnover figures for Q4 do not give us a reason to reevaluate our November forecast of roughly 7% private consumption growth in Q4.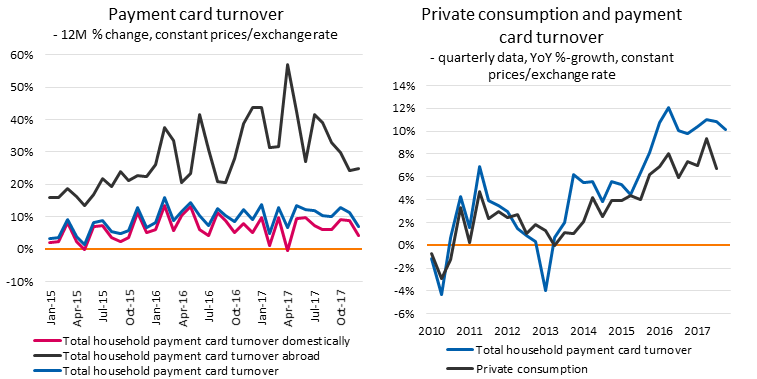 Sources: CBI, Statistics Iceland, Arion Research